By now I've been assigned to Headquarters, International Security Assistance Force for over three months. My job is to go out and visit the Provincial Reconstruction Teams in the eastern provinces of Afghanistan to help the command staff maintain situational awareness. Until a few days ago I had been able to visit exactly zero of them in that capacity.
So the other day a group of us decided to drive town to the Wardak PRT. Wardak is one of the provinces adjacent to the capital city of Kabul. The PRT there is a part of the Turkish assistance mission in Afghanistan. Their operation is unique in that it is led by a civilian. In the entire time they've been working here it turns out that nobody from my office has ever made a trip out there. Clearly it was time.
Since we needed to bring enough people to hold our own in the event of an attack, we ended up inviting anybody we could think of who might have business there. We ended up with a small crowd that included our Canadian driver and one civilian contractor. The rest of us were all US Navy including my newly arrived boss, Commander Hanley:
The snow started just as we were leaving Kabul, so the going was pretty slow. Driving toward Wardak things got a bit slippery. At one point while we were headed downhill we started sliding and couldn't stop. We weren't going much faster than walking speed when we hit the other car. Fortunately, we caught it on video:
In the event of a crash we have two options. If the other vehicle was at fault, it's quite possibly the prelude to some sort of attack and we have to get away as fast as we can. If we're at fault (which I suppose we were) we have to hand the other driver a claim voucher so he can get ISAF to pay for the damages. From what I understand it works out to be a generous deal and he'll probably end up being able to buy a whole new car by the time it's over. But at least it's better than giving the locals another reason to dislike us.
After a couple of slightly tense hours on the road we made it to the PRT in Wardak. Once we arrived we settled in with a few cups of coffee: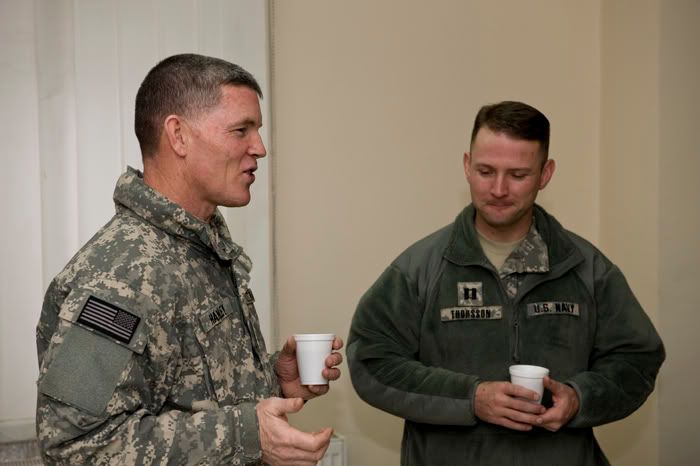 Then we spent the next few hours meeting and greeting the military members in the staff of the facility. They were pretty nice guys:
The compound itself is a pretty interesting concept. Usually when a PRT is stood up they assemble a bunch of temporary buildings and barriers and get to work finding ways to build infrastructure and enable independent economic growth in the area. The buildings tend to be pretty flimsy, with no thought to what will happen with the real estate once the PRT is packed up and sent home.
The Turks decided instead to start by building a facility that will serve a long and useful life after they've gone. In this case, the facility will be a very nice primary school complete with classrooms, offices, and living space for the staff. It's a brilliant concept and it looks like some of the future PRT compounds will be built with the same idea in mind.
While walking around, I noticed that they have a couple of dogs they keep in a pen just outside the gate to the compound. They were locked in at the time, but they looked very playful and friendly: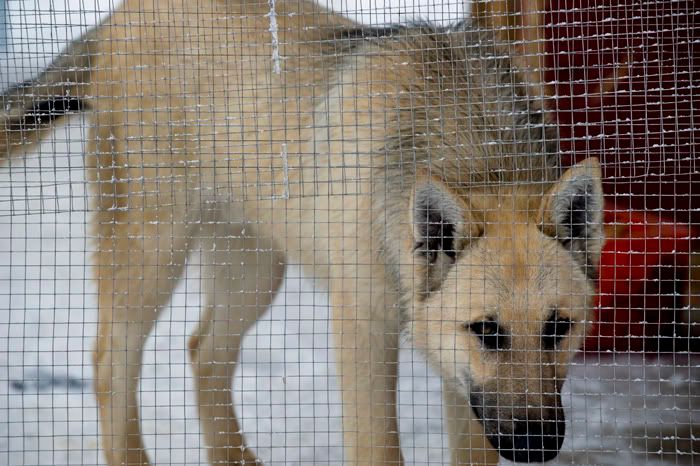 I'm not ashamed to say they made me miss my own two pups back home. I suppose if I really wanted to I could probably snag myself a surrogate dog while I'm here. There's no shortage of feral dogs wandering around out here. This guy looked nice enough:
But I digress...
During lunch we got to chatting about challenges and successes in the region. When the conversation turned to US activity in the area, the Turkish officers decided we should all go over to the nearby US base. We got a chance to talk with the commander of the American maneuver forces in the region. THAT was an interesting conversation, but I really can't talk about it here.
When we returned to the PRT compound we were given mission briefs by the commander of the Turkish Army detachment as well as the civilian director of the entire PRT. The briefs proved pretty informative. It turns out that the Wardak province is about the size of West Virginia. Depending on who you ask, the population is somewhere between 400,000 and one million people. The average person living in Wardak makes a little less than one US dollar per day. The only reason that average is so high is because much of the workforce commutes to Kabul or migrates to Iran or Pakistan for jobs and sends their pay home to their families.
What little money there is to be made in Wardak itself is made in agriculture. Most of what is grown there is eaten there. The only thing that they export at all is apples. The problem they have though is a lack of cold storage. So when the apples are ready for harvest they all get picked at once. Since there's no place to keep them fresh they all get sold at once. This floods the market and drives prices down. Saavy investors buy up all the cheap, fresh apples they can get a hold of, pack them off to nearby cold storage facilities, and then sell them back to the locals in Wardak at great profit over the course of the rest of the year. So in the end their only local source of income also turns out to be a greatly expensive product for the locals to buy just a few weeks later.
After the briefings we had dinner in their formal dining room. After the past three months of eating bland food off of broken trays, I can't tell you how nice it was to sit down to a carefully prepared meal made of ingredients that can be safely eaten without boiling the flavor out of them. There were even waiters.
Once dinner was over we took a few minutes to compare notes. We had a lot to talk about, but I still had plenty of time to get outside and enjoy the amazingly fresh, chilly air.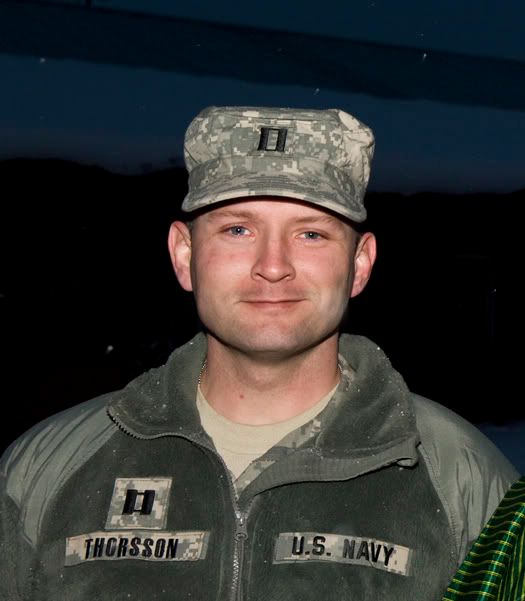 That night I slept like a stone.
The following morning I managed to sleep in until almost 0730. Breakfast ran until 0900, so the day started with a pretty relaxed pace. Luxury.
Once breakfast was over we had a bit of time to kill, so I snapped a few random shots around the compound:
Somewhere along the way I lost track of Greg.
While nobody was looking he managed to build "G.I. Snow," a real Canadian hero:
We also got to check out the weekly shopping bazaar in the parking lot outside the compound. With the weather being what it was, there was only one car worth of vendors who showed up:
Then it was time to head over to the Provincial Governor's compound for their periodic security meeting:
It was interesting to get the Afghan government's view of the insurgency in the area. In short: there are plenty of bad things that happen in the area, but not all of it is due to the Taliban. The problem is, any time anything disruptive happens the Taliban takes credit and makes it impossible to be sure.
After the meeting adjourned I managed to corner the governor long enough to ask him a few questions about some of the programs we're working on in the area. He was a nice enough guy, but he is definitely a career politician. After ten minutes of talking I couldn't help but feel like he'd said nothing at all:
Once we were done there we went back over to the PRT compound for lunch. Then we went out to take a quick look at some of the nearby projects the Turks have been running in the area. On the way we drove down Main Street in Maidan Shahr, the nearest town to the PRT and the largest town in the entire province. Even with all that going for it, the town's a pit:
You'll notice that the town actually has streetlights. This style of lighting is a sort of hallmark of PRTs here in Afghanistan. They're low-maintenance, solar-powered, and completely self-contained. Since reliable electricity is a rare thing in this country and well-lit streets deter criminals, this is an ideal example of improvements that we can make for the locals.
I also got to spot a few of the increasingly ubiquitous voter registration billboards. Elections are supposed to be held early this year, so there's a big push to get as many people involved as possible:
Noble as this idea is, I can't help but wonder how much the locals here could possibly care about the central government. It seems to me that most of them probably have more immediate problems to worry about:
Our first stop was at the Maidan Shahr Sports Center and Children's Playground. It doesn't look like much in the snow: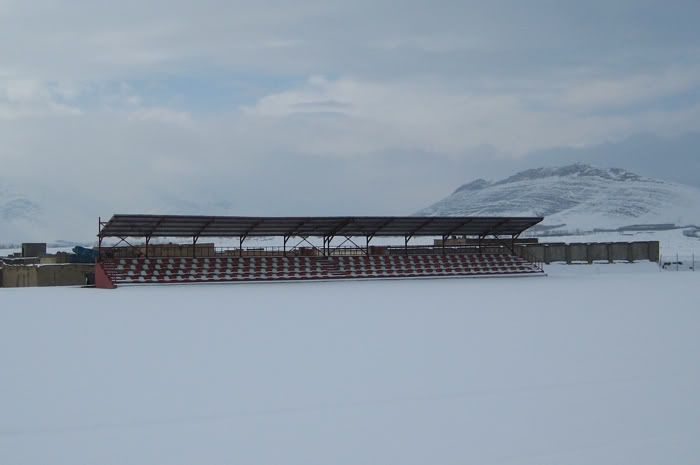 But it's probably a pretty good setup when the weather's better:
This particular playground may not be the most fun the world has to offer, but it's a big step in the right direction when you consider that music was against the law in this country just under eight years ago.
While we were looking around and talking with the folks that were responsible for getting the facility built, a small group of local kids showed up and looked pretty interested in us. It wasn't long before someone started a playful snowball fight: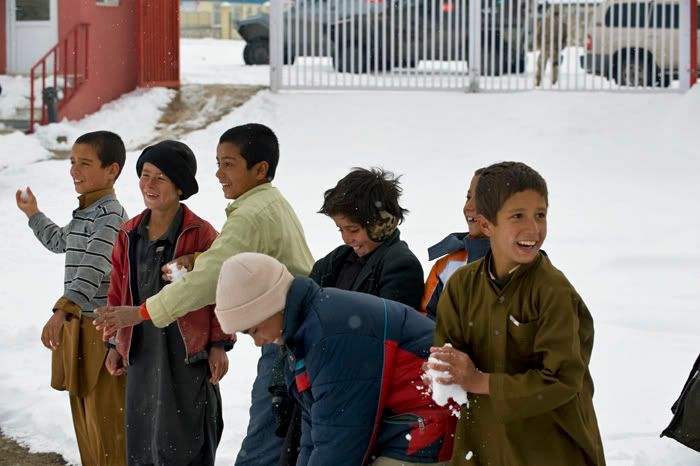 Oddly, we did not fare well in that confrontation: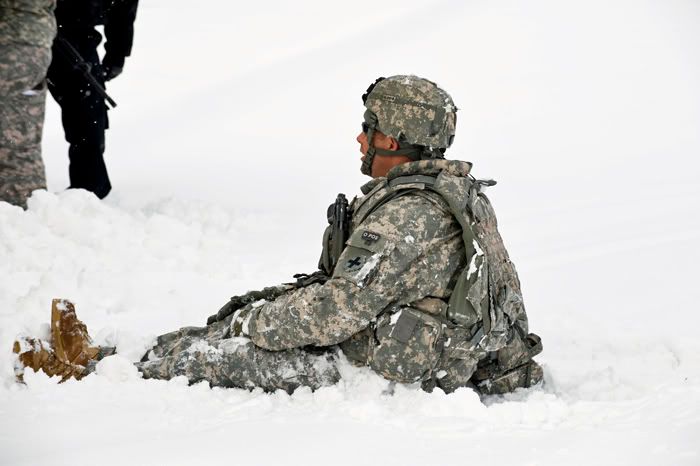 They were nice kids and it was a good time, but I still can't help but feel bad for them. They've all got a pretty tough life to look forward to.
Still, I was glad to be there:
We left the sports complex and headed over to the Police Training Compound the Turks built on the other side of town. The facility was impressive. It's built with the capacity to train up to 140 students at a time. Their training program runs for ten weeks and has all the identifying features of a professional police academy.
While we were touring the facility, Greg stood security watch over our two vehicles and caught up with the some of the Turkish civilians: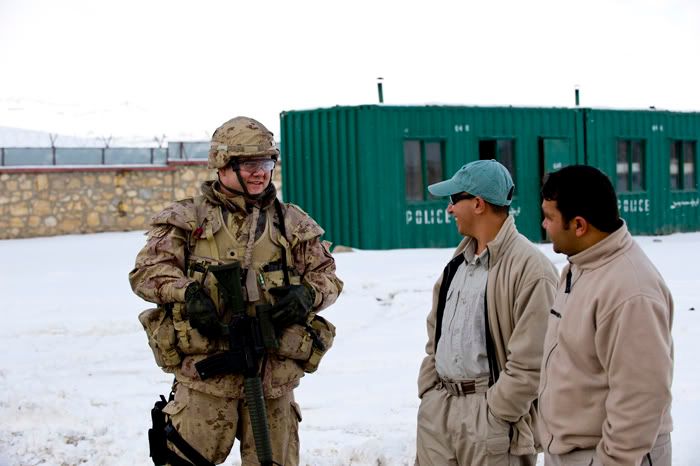 The facility was pretty neat, but I found myself a bit distracted when I finally noticed the group of vehicles I was travelling in. The convoy was led by a couple of these things: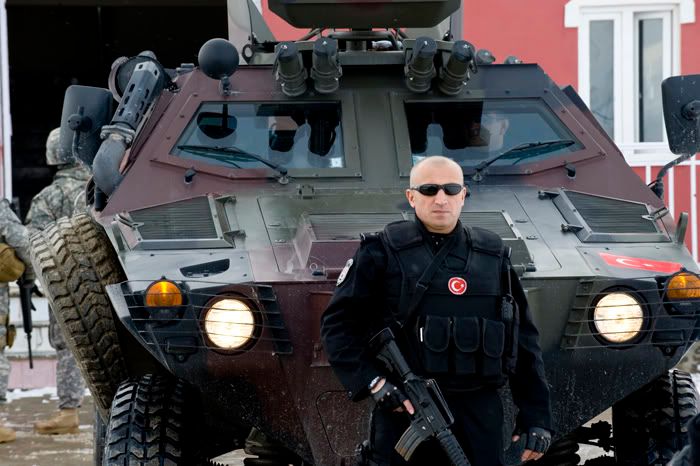 Then there were our two SUVs in the middle followed by a handful of these: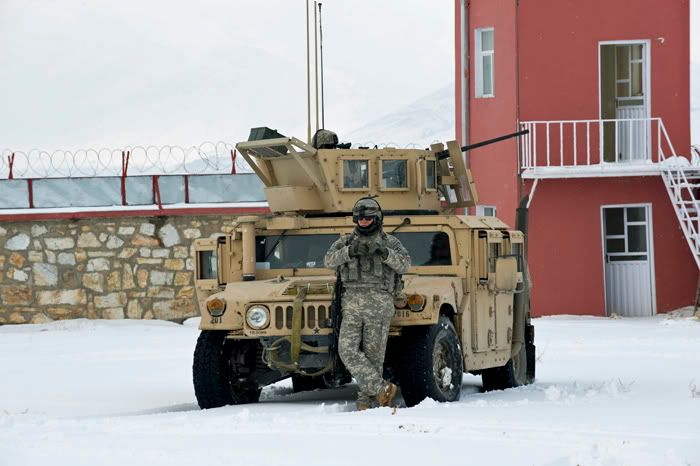 We didn't plan it that way, but we'd accidently set ourselves up to look like some significant foreign VIPs (that's Taliban for "targets"). In hindsight it was not a good idea. Fortunately the hour was getting late and it was time for us to be on our way.
The few things we got a chance to see are only a very small part of the work the PRT is doing in the province. They've also been building bridges, schools, and police stations. They've been developing ways to grow more profitable crops in the area and then teaching those methods to the local farmers. They've built above-ground cold storage facilities to help the locals preserve their harvests for more profitable seasons. But that's not all.
On the horizon they've got programs lined up to build in-home greenhouses so local widows will be able to grow their own low-cost food. They're designing underground cold storage facilities so the local farmers will be able to store their crops without needing electricity. They'll be teaching lower-income families to breed and raise livestock and then giving them animals to start their own herds. They're even instituting a beekeeping programming that will involve giving a family 20 beehive boxes and the training to make a living off of their honey. It's all very inspiring and it'll work great if we can ever convince the insurgents to stop blowing things up or burning things down after we build them.
So it goes.
The drive back to Kabul was quick and painless. Still, I was sad to leave the open country behind: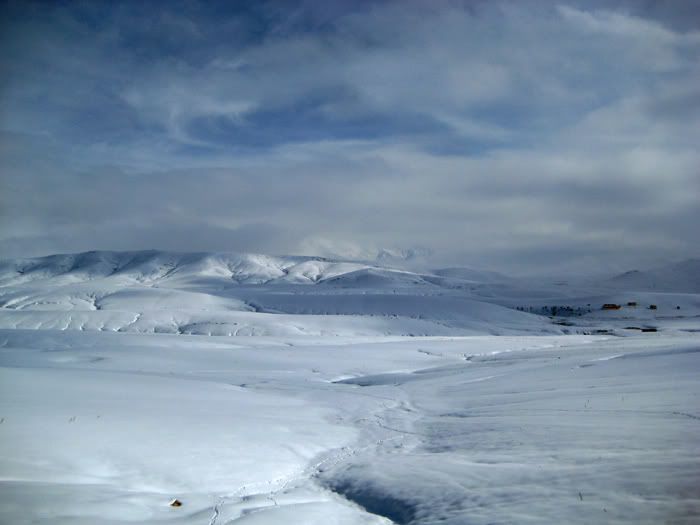 The drive along the main highway meant a chance to see more of the wierd crap that passes for normal here: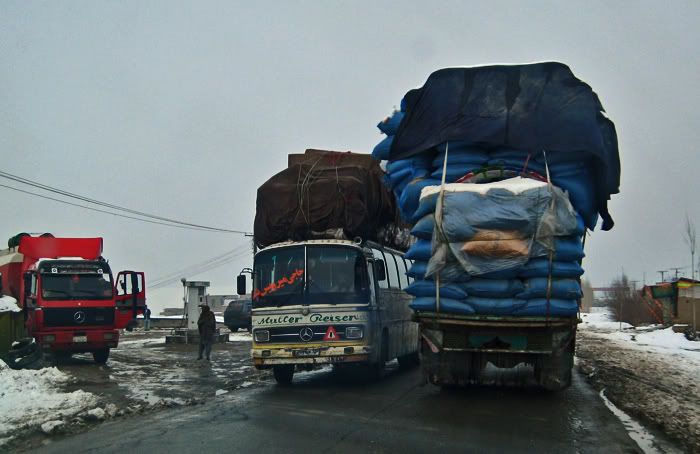 As we got further into the city itself, the air got thicker and everything got dirtier in general. Along the way I snapped this shot of the view from the street alongside the Kabul River: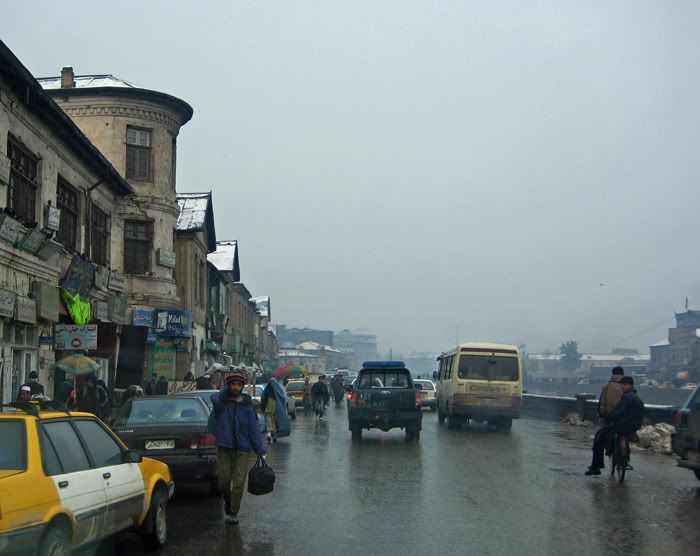 And of course things got worse the further we got into town:
Once we were on the main thoroughfare in the city, Greg spotted this particular taxi that was obviously a long way from home: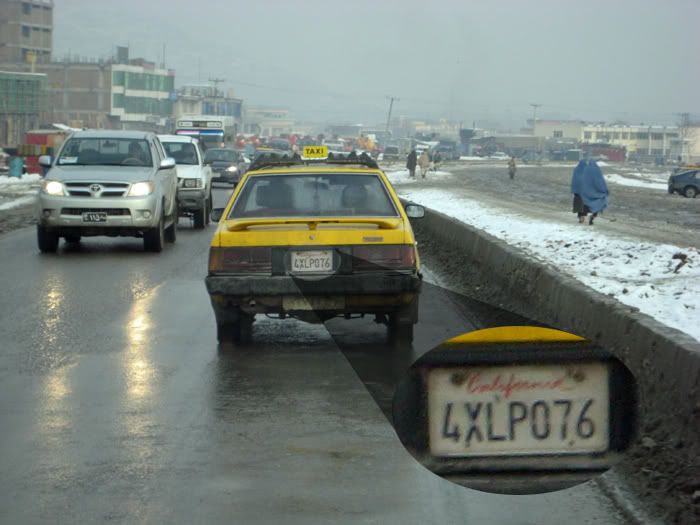 And I spotted another dog to abduct: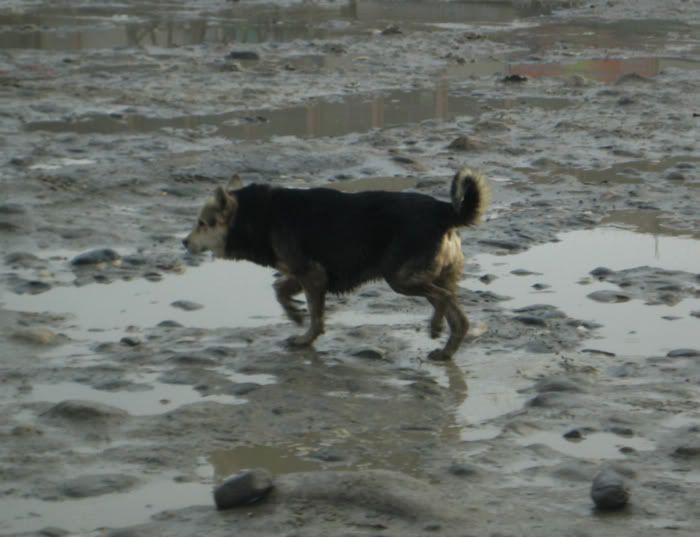 But in the end we had a safe and productive trip and I was stuck back in my office: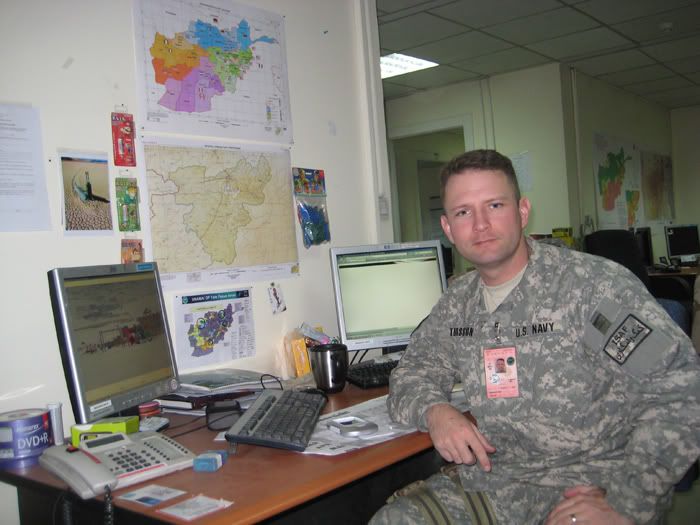 Now I have to get back to writing my TPS reports.
Stay tuned...