This is the space where I will post pictures of past projects I've done. I'm constantly working on all manner of madness, so check back often to see what else I add. There's a lot:
I'm also always looking for new projects to work on, so if you'd like me to make something in particular, shoot me an email at sthorsson99@yahoo.com.
Morita Assault Rifle Props (2020)
I've long been a fan of the Starship Troopers franchise. Building replicas of the Morita was the first natural step toward replicating the entire Mobile Infantry costume.
Samus Aran Helmet (2020)
The first step in building the full suit of armor for the star bounty hunter from the Metroid video game franchise.
Psycho Masks from Borderlands 3 (2019)
When 2K Games needed to bring some video game characters into the real world for a live-action commercial, we used the in-game digital assets to prototype these masks, then hand-painted them to match the on-screen look.
Sisters of Battle Squad (2019)
This was a personal project from my bucket list that was built just to show off at the Bay Area Maker Faire and San Diego Comic Con.
Aliens Powerloader and Xenomorph (2019)
The second build my crew and I put together for Magic Wheelchair. Presented to a very happy Aliens fan at Rose City Comic Con.
Davros Chariot (2018)
Our first-ever build for Magic Wheelchair, we dressed up this young lady's wheelchair to match the leader of the Daleks from Doctor Who.
Petaluma River Monster (2018)
A collaboration with Peter Rubin, this is a model of our proposal for the Petaluma Public Art Commission's first large-scale installation downtown.
Grey Knight Terminator (2018)
Inspired by miniatures from the Warhammer 40K tabletop games, this beauty was hand sculpted, then molded in fiberglass for a lightweight, wearable suit that looks like polished steel.
Fallout Power Armor (2018)
One of four suits we've made (so far) from the amazing Fallout universe.
Thor: the Goddess of Thunder (2018)
The girlfriend made the mistake of saying she'd be willing to wear it, so I had to make it.
Schick Hydro Robot Razor (Mid-2016)
After the introduction of the Hydrobot character in a Super Bowl commercial, the decision was made to bring it to life so he could make appearances at Comic Conventions. With just 39 days to complete the project, most of the parts were digitally prototyped from the same 3D models used to render the robot in the commercial:
He made his debut at the Con-X Fan Festival adjacent to the 2015 San Diego Comic Con:
Makey the Robot (Early 2016)
When my good friends and long-time patrons at Make Magazine decided that they wanted their cartoon robot logo turned into a wearable costume that could walk around at their events around the world, they looked to me. After fifteen long days in the shop, Makey was born:
You can read more about making Makey here: LINK.
Sequel Trilogy Star Wars Props (Late 2015-Present)
In between all of the paid projects that have filled the workshop lately, I've still found time for a few hobby builds. I couldn't contain my excitement about new films being added to the Star Wars franchise and ended up feeling compelled to build a few of the new helmets. I started with the flametrooper and, since I can never seem to make just one of anything, I made three of them:
You can read about how they were made here: LINK.
Then moved on to the shiny chrome dome of Captain Phasma:
You can read about how they were made here: LINK.
Finally, I made a TIE fighter pilot's helmet as well as
the rest of the TIE Pilot armor and, with the help of some friends with the 501st Legion, managed to field a few of them:
You can read about how they were made here: LINK.
Eventually I'll get around to completing even more of these characters. Next on the list is Sidon Ithano, the Crimson Corsair. So far all I've made is his helmet:
Ghostbusters Hood Ornament (Early 2015)
When my friend Peter Rubin was working as an illustrator on the new Ghostbusters reboot, he came up with this hood ornament as a last-minute addition to the Ecto-1. Made in less than a week and shipped with barely enough time for the paint to dry, it's the first time something I've made for the big screen actually got a closeup in the trailer:
You can read all about this litte project HERE.
Giant Electrical Outlet (Early 2015)
A commissioned work designed by Basal Ganglia Studio, a local artist, I did the structural design as well as the complete fabrication of all of the fiberglass skin parts:
It was nice to have an opportunity to build something that would leave a lasting mark on my home town:
You can read more about this project HERE.
EVOLVE Proving Grounds Trophy
(Early 2015)
Designed and built in just two weeks, the finished trophy was comprised of five separate, smaller trophies that could be handed to each of the five members of the winning team. Each one had its own independent power supply to drive it's built-in LED array and illuminate the lithophane panels on each side. These all fit into a common display base built on a motorized rotating turntable:
You can read more about this project HERE.
Shae Vizla (Early 2015)
I made the helmet, jetpack, blaster, gauntlets, and belt details, while the vacformed armor parts were made by DW Design Studios:
You can read more about building the costume HERE and the blaster rifle HERE.
Sith Acolytes (Early 2015)
I didn't want to have Shae Vizla walking around alone, so I made myself one of these guys:
Then I made three more of them:
EVOLVE Project (Summer 2014)
When 2K Games needed a set of prop weapons to help promote the release of their new game EVOLVE, they gave me the in-game digital models and twenty days to build all four. The end result was an armory that looked like it was pulled right out of the screen.
Photos courtesy of MAKE: Magazine. You can read more about this project HERE.
Death Watch (Late 2014/Early 2015)
When my friend Matt mentioned the idea of putting together a squad of Death Watch Mandalorians from the Clone Wars animated series, I dove right in. Together we made a handful of these helmets:
We also made a female version of the helmet:
Then we set to work making the armor, jetpacks, blasters, jumpsuits, flak vests, and all of the other parts to go with them. The end result was nineteen complete costumes, but the most we managed to get together in front of the camera at once was fifteen:
Here we are with Roxy the Rancor at Star Wars Celebration Anaheim:
Funbot (2014)
When Fundemonium, a local toy and hobby shop, was redesigning their store, they commissioned me to make a handful of statues of their mascot character.
ED-209 (Spring 2014)
Ever since I was ten years old I've wanted an ED-209 for my very own. When MAKE Magazine asked me to document one of my builds to publish through their website, I decided this had to be the one. They've put together a great making-of video series which you can see HERE.

A few months later I made a second one:
Because two EDs are better than one.
Space Wolf (Early 2014)
Pulled from the same forms as my Dark Angels, this one incorporated dozens of custom-sculpted details and sported a faux fur cape as well.
GAGE (mid-2013)
I built the top half of this costume in about a month and a half for a short film. You can see more information about the project HERE. This was an entirely digital build using my CNC machine, rapid prototyping, and digital files designed by Peter Rubin. The bottom half of the suit was made by Fonco Creative Services and they also handled the painting.
Ironman MkIII (2013)
This was an entirely digital build using my CNC machine and rapid prototyping machine to create prototype parts before molding and casting them to make a wearable suit:
You can see more details about this build HERE.
Ironman Helmet Variants (ongoing):
When I started contemplating the Ironman costume build, I actually had a hard time deciding which of the forty-two variants of the suit I wanted to build. In the end, I decided I'd do the one that showed up on all of the posters for the first film and settle for just making the helmets for some of my other favorites. The one I'm most proud of is the Mk39 "Gemini" version:
Many of the variants are just different color schemes on the same helmet model. One example is the Mk33 "Silver Centurion" and the Mk30 "Blue Steel" armor. So I made both helmets with one mold:
Since it had been a while since I'd flexed my hand-sculpting muscles, I decided to make the "Godkiller" helmet from the comics by sculpting out a prototype old-school style:
I still haven't quite gotten this impulse out of my system, so I'm sure I'll end up making more different versions of the Ironman helmet.
Jen in Carbonite (Late 2012/Early 2013):
When my friend Jen asked if it was possible for me to encase her in Carbonite a la Han Solo, I was happy to oblige. You can read more about this project HERE or in my award-winning Instructable HERE.
Space Marines (early 2012)
Starting with 3D models from the Space Marine video game, forming bucks were built and the bulk of the costume parts were vacuum formed:
Painting was done in mismatched colors with heavy weathering to give the appearance of very old equipment mixed in with newer replacement parts:
I also made a variety of weapons:
The best part is how small everything else looks next to the fully-assembled suit:
With some plain "grunt" versions built, I also decided I needed to make another more dressed

-up version:
And another Dark Angel so I could give them some more sculpture love:
You can read more about this build HERE.
Cadian Imperial Guardsmen (2013)
Since the Space Marine costumes make it difficult to get around, I went ahead and built a handful of Imperial Guard costumes to help them maneuver:
Here's a closeup shot of me in one of the guardsman costumes:
You can read more about this build HERE.
Imperial Commissar (2014):
Since I'd already made a handful of Imperial Guardsmen, I also needed to add a Commissar to keep them in line. The costume included a custom-made breastplate, medals, uniform coat, epaulettes, and so on. I was pretty happy with the end result: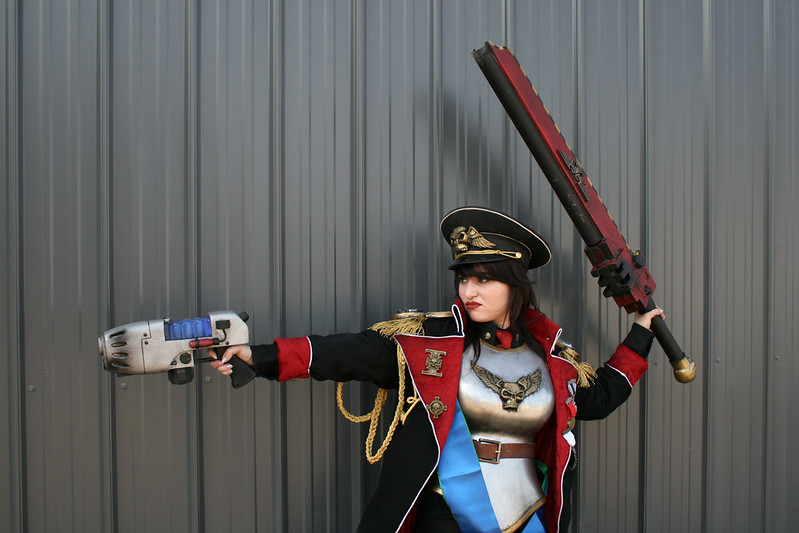 To finish it off, I made a couple more props for her to carry. First, a plasma pistol with lighting effects:
The second was a downsized version of the chainsword that I'd made for the Space Marines:
Kali (2012)
Built on commission for Hi-Rez stu

dios to

promote their game SMITE:
The costume required the fabrication of prosthetic arms, a prosthetic chest to balance it out, the skirt, shoes, wig, and all of the props she's holding. Model: Sarah Madill. Image courtesy of Make Magazine. You can read more about this build HERE.
Blood Eagle Pathfinder (2012):
While I was working on the Kali

costume

, Hi-Rez a

lso commissioned me

to build a character from TRIBES, one of their other titles. Here'

s the finished suit:
This was my first predominately digital build. All of the armor parts were CNC carved using the character files from the video game. This project also included wiring and circuit design for all of the various illuminated parts of the armor as well as the Spinfusor weapon prop.

Image courtesy of Make Magazine.
You can read more about this project
HERE
.
Isaac Clarke Engineering RIG from Dead Space 2 (Summer 2011)
This helmet was hand-sculpted in oil-based clay and scraps of sheet styrene, then molded and cast in urethane resin. The slits in the faceshield are transparent blue acrylic heated and formed to fit, then backed with electroluminescent tape to make them glow as they do in the game.
Here's a shot of the back of the helmet:
Once I'd finished the helmet, the next thing to do was build the rest of the suit:
The whole suit came together in just about a month and a half. You can read more about this project HERE.
Red vs. Blue HALO costumes (2010):
Originally intended for Halloween 2008, my Afghanistan deployment got in the way. Protoype suit was made around a set of Pepakura papercraft models which I reinforced and added tons of extra detailing and smoothing to. Then I made molds and cast copies in urethane resin to outfit a group of friends. We now have nine suits between us, but the most we've had dressed up all at once is seven:
Here's a full-length shot of one of the suits to show all of the details:
Here's a video from my display at the 2011 Maker Faire where I was doing a demonstration of various prop and costume making techniques:
UNSC Marines (May 2011)
While gearing up to exhibit my Spartan costumes at the 2011 Maker Faire, I decided I was going to need some more folks in more maneuverable outfits to help shepherd them through the crowds. With about two weeks to get ready, I made forming bucks, pulled all of the armor parts, strapped them together, and painted them. With the addition of some heavily modified Multicam fatigues, they were perfect:
You can read more about this project HERE.
Predator (Halloween 2005)
Built out of upholstery foam skinned in latex with handmade leather and resin details added on. Total build time: approximately 2 months. You can read more about this project HERE.
BABY FETT (Summer 2009)
My nephew decided he needed a Boba Fett costume for an event. My sister managed to come up with the rest of the costume, but I made the helmet:
The prototype was fabricated from card stock and sheet styrene, then I made a mold and painted up one of the castings. Sadly, I never took the time to get good photos of it.
STAR WARS Republic Commando Helmet (2009-2011)
Based on the characters from the video game with the same name, this project started as a paper model which I reinforced, detailed, and then molded. It was a backburner project that I tinkered with intermittently for a couple of years before I finished it. This was the first casting that I painted up:
Spartan from 300
(Halloween 2007)
Prep for this costume began in April 2007 with a carefully planned diet and exercise regimen. In mid-september I began sculpting out the armor parts and shield in oil-based clay, molding them in urethane rubber, then casting the parts in resin and painting with a faux bronze finish. Leather parts were handmade by me as well as the tussah silk cape (the same type of fabric used in production of the film).


Warhammer 40,000 Space Marine Helmets
Sculpted in oil-based clay and rotocast in urethane resin. Painted and weathered in a complex fourteen-step process to develop adequate used look.
Sometime later, I re-sculpted one of them to make a Chaplain helmet:
I also made another beaky helmet and coached my friend Matt through the process of painting it in the colors of the Night Lords chaos chapter:
Grey Knight Terminator Helmets (Summer 2014):
Warhammer 40,000 Terminator Space Marine Helmet (2012):
This was a one-off built from paper as a demonstration of what's possible with some simple materials and limited tools.
Stormtrooper
(Halloween 2002, 2003, 2004)
Built of vacuformed sheet styrene on hand-sculpted bucks, this project started with a full-body lifecast in May of 2002 and I finished my first suit two days before Halloween. The following year I made another one for a friend. In 2004 we wore them again.
Prop Replicas
M-3 Predator Heavy Pistol from Mass Effect 2:
Working in a variety of materials and using only screen captures from the video game, this was a high-speed low-budget build that took about a week and a half from beginning research to having a raw, unpainted casting out of the mold. Adding a bit of paint and lights and a cosplay model named Jia Jem, it looked like so:
HALO3 Magnum Pistol:
This was CNC-carved out of medium density fiberboard, coated with epoxy and then detailed by hand. Once I was satisfied with the details, I molded and cast a few copies.
I had to make duplicates because you can't dual-wield pistols if you only have one:
HALO3 BR55HB Battle Rifle:
The Battle Rifle was made in exactly the same manner as the magnum. The scope was cobbled together from airsoft parts and a few custom-turned pieces I made on the lathe.
HALO3 MA5C Assault Rifle:
CNC-cut MDF master with some custom-machined details as well as a few found items. After molding I cast two different versions, a rigid plastic hero version as well as a "bounce-able" rubber stunt version. These were built for use in production of the HALO: Helljumper short film.
HALO3: Spike Grenades:
The master was a combination of custom-turned wooden parts and hand-sculpted spikes. After molding, copies were cast in flexfoam for use in production of the HALO: Helljumper short film.
HALO3 SRS99D Sniper Rifle:
The prototype for the sniper rifle body, scope, muzzle brake, magazine, and tripod legs were also CNC-cut MDF. The barrel prototype was PVC pipe with the fluting cut with a router and the breech end made of a block of MDF turned on the lathe. The recoil suppressor was also turned on a lathe. After molding, casting, assembly, and painting, the finished piece has a removable magazine. The barrel can also be pulled out for storage.
I had to scale it down in order to make it reasonable to carry around. Even so, it's huge:
HALO M729 Squad Automatic Weapon (Summer 2014):
The master was CNC carved MDF and 3D printed parts which were molded and cast in urethane resin before being painted to match the in-game model.
Random Little Sculptures
Combat Garden Gnomes (2010-2014)
This is the first in a series of pose/weapon combinations I plan to make on the same premise. What premise? The premise that somewhere out there there must be some angry gnomes having scary little turf wars. I've made a bunch of them and frequently post them for sale in
my Etsy shop
.
Here's the second pose I sculpted:
In 2011 I got back to work on Combat Garden Gnomes and made a prone version:
and a grenade-throwing one:
and a rocket launcher version:
Combat gnomes need a leader, so in the beginning of 2012 I also sculpted out a gnome officer with a pistol:
With that done, I also added a flamethrower gnome to the mix:
Then a Minesweeper:
A heavy machine gunner:
a bayonet attack gnome:
Mortar launcher:
Radioman:
and finally, my first female gnome rifleman:
Cthinker (2009)
I got bored one night and sculpted this 8" tall statue of dread Cthulhu in the pose of Rodin's "the Thinker" in oil-based clay, then cast copies in urethane resin with a faux bronze finish. I occasionally do a run of copies of this guy and sell them
in
my Etsy shop
.

I.A. Sailors (2008, 2009)
In 2008 the Naval Reserve deployed me to Afghanistan as an "individual augmentee" for the Army. When a friend mailed me a bag of little green plastic soldiers, I decided I needed to make blue plastic sailors to go in the bag with them. These were the result.