With all of the holiday well-wishing and whatnot, I've been unable to get enough bandwidth to post any bloggage. In case it matters, I apologize for the untimeliness of this entry.

In recognition of Christmas, we had a "low ops day" here at the HQ. That sounds really cool and all, but suddenly not having to spend all day in the office isn't the same as having a day off. The list of options for activities was pretty limited and pretty much everything was shut down. My solution: try to sleep through the whole day.

I failed.

Despite my best efforts, I woke up around 1400 in the afternoon and, bereft of anything else to do, went over to the office to check my email. Then I stopped at the US NSE (National Support Element, basically our admin shop) to see if there was anything going on there. I found a couple of other Navy officers equally bored who had stumbled across a build-your-own gingerbread house kit that was unclaimed in the mail.

It hadn't survived the trip intact and these two characters were trying to glue the roof parts together with icing in a vain attempt at rebuilding it. Enter Shawn. By the time I was done helping, we'd converted this run-of-the-mill gingerbread house into a bombed-out Taliban gingerbread house as shown below:




The kit provided a few constraints, so we had to take artistic license. For example, there was no dust-colored icing, so this is the only house in Afghanistan with a green lawn. Also, there was nothing in the kit that looked like wires, so we had to substitute a couple of hair ties for the trigger leads on our SweetTart IED (visible in the right of the pic above). Finally, we were unable to come up with a good way of making any of the candies in the package look like opium poppies, so we settled for the more conventional Christmas trees that came with the kit.

At least the gingerbread insurgents look appropriately angry with their candy cane RPG launcher and pistol, as well as their frosting and candy suicide bomb belts: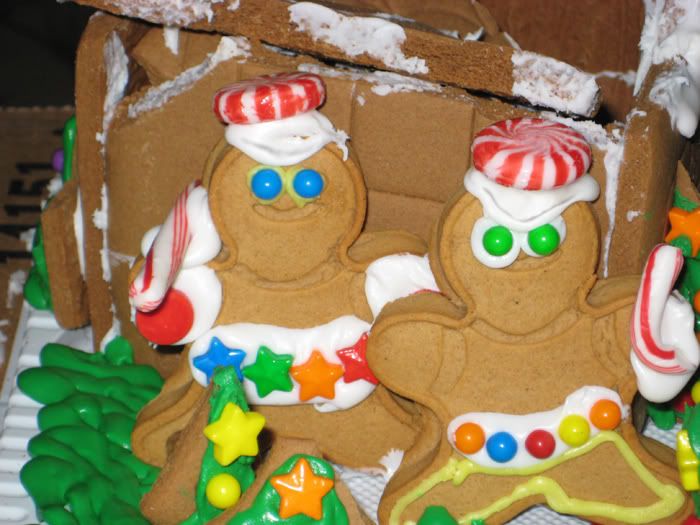 I'm told I've got a lot of loot coming in the mail, so there will be some delay before I can tell anyone what I got for Christmas. For now I can say that my sister Sheryl sent me some bulletproof sunglasses with interchangeable lenses made by Oakley. So now I can be stylish and stop ballistic threats with my eyes. Cool.
More to come, stay tuned...